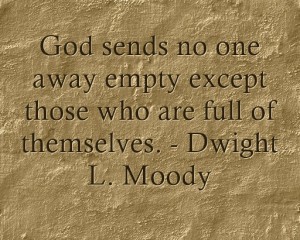 Arrogance is on the loose in the Church of Jesus Christ. Humility is in short supply in many places. We have followed the pattern of the world and have developed attitudes and lifestyles that do not honor God. The results are not pleasant. It seriously affects all of us and accomplishes nothing beneficial for the Kingdom of God.
In the Apostle Paul's letter to the Colossians, he clearly presents the quality of character God is looking for.
Colossians 3:12-15 NIV Therefore, as God's chosen people, holy and dearly loved, clothe yourselves with compassion, kindness, humility, gentleness and patience. (13) Bear with each other and forgive one another if any of you has a grievance against someone. Forgive as the Lord forgave you. (14) And over all these virtues put on love, which binds them all together in perfect unity. (15) Let the peace of Christ rule in your hearts, since as members of one body you were called to peace. And be thankful.
Change Your Clothes
If you call yourself a Christian, you need to put on some things. Clothe yourself with compassion, kindness, humility, gentleness, and patience. These are super character traits and humility is right in the middle of the list. If you clothe yourself with these, there should be no room for arrogance in our life. This kind of behavior is an act of the will, not the emotions. You choose to put on these things just like you choose each day what clothing you will wear.
To make his point perfectly clear, Paul tells us we must also bear with each other. That means in our relationships, nothing is unbearable. We can bear difficult situations, especially in our relationships. How do you do that? Forgive others, even the ones who hurt you, the way the Lord has forgiven you. What has He forgiven you for? Everything! So bearing with others includes forgiving completely.
Note: If you are being emotionally or physically abused, forgive, but that doesn't mean you have to stay in the relationship and continue being a victim. God cares very much about your safety.
Paul also tells us that above all these virtues, we should put on love. Love is the glue that binds us together in perfect unity. That pleases God immensely.  
Finally, we are to let the peace of Christ rule in our hearts. It's a choice! It's always flowing toward you from God, but you have to let it in and let it rule in your heart.
As I started writing a blog about humility I ended up with so much to share that I posted most of it as an article instead of here. So if you are interested in the quality of your Christian life, if you are bold enough to examine what may be a serious weakness in your personal life or ministry, then read the article and pray about the content. God wants to set you free from arrogance and work His humility in you. It will change your life.  For immediate access, click this link Humility – the Missing Attitude.