Grow Here – Learn How
You can grow in every way in your personal and spiritual life as a follower of Jesus Christ! This is a bold statement, but it can happen for you. The Bible provides you with everything you need to do it. The purpose of this website is to help you discover the truth in God's Word. I will also show you ways you can apply His truth to your life. When you do it will change you and launch you on an incredible journey with Him.
Some of the things you will learn here include:
How to grow in a relationship with God and His Son Jesus Christ. In this way, you will be able to experience the fullness of His love, forgiveness of all your sin and eternal life.

How to grow in the Word of God. The Bible is the source of all truth and relevant to your life today. Therefore, it is vitally important to your spiritual development. Love it. Learn it. Live it. 

How to grow in the Holy Spirit, the source of power for all believers. As you let Him flow in your life you will discover the unique spiritual gifts He has given you. He will also work His power in you so you can walk out the truths you learn from His  Word.

How to grow as an integral part of the Body of Jesus Christ, commonly referred to as the church. The true church is not a building, an institution or religion. It is an assembly of believers, a living organism, a community of love, worship, and service. When He is allowed to be in control of His Body,  He leads us and builds us together to do His work.  
The Site Name – Grow in Every Way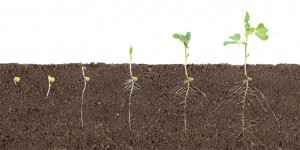 The site name is based on a scripture verse in Ephesians 4:15. Here the apostle Paul gives the assembly of believers in Ephesus some basic instruction on two key issues: (1) what the leaders are called to do, which is equip believers for the work of the ministry i.e. serving, (2) priorities that believers should establish. (Read the entire text in context here: Ephesians 4:11-16.)
One of the priorities given to the believers is (vs. 15) "we will speak the truth in love, growing in every way more and more like Christ". When someone speaks the truth to you in love, it will cause you to grow in every way and become more and more like Christ.
My goal is to make every effort to fulfill that verse. So declaring the truth will be the primary emphasis. When we learn His truth, it sets us free and changes our lives. 
I will be adding more content to the articles, podcasts, and blog to help you achieve these growth goals.  Explore the site and discover what God has for you. 
Check This Out
Are You Done with the Institutional Church?
I am. I also worked for it for a few decades, but now I am out now and I'm never going back. There is a term for that. It's called unchurching. There are hundreds of thousands of believers and leaders all over the world doing the same thing.  We are done with church but not with Jesus. Why did I leave? Because the religious system has become corrupt, weak and not biblical in most places. It has very little in common with what Jesus started in the first century. Jesus is not the head of most churches. Instead, we have the clergy who rules with power in His place.  Humans are building the church for Him instead of letting Him come in their midst and do what He wants. Following the spontaneous flow of the Holy Spirit must replace our religious activities. He wants to express Himself in and through His people. 
So unchurching requires reprogramming. Jesus wants to cleanse our souls of all the religious baggage we have picked up over the years. He wants to give us a fresh vision of what He wants to do with His people.
Relearning Church
One term we must relearn is church. Did you know the Bible doesn't even use the word church in the original language?  Since the Bible doesn't use that word I stopped using it too. You can read about that here. Ekklesia is the word used by Jesus and the apostles. It literally means an assembly of believers who together become what the Bible calls the Body of Jesus Christ. In His Body, each one functions under His Headship. God has given each one spiritual gifts and when the Body gathers they use them. It's a place where His people are participants not spectators.
The assembly of believers is not an organization that meets to do religious things or the building people meet in for religious services. It is the real Jesus present in His people and freely moving among them by His Holy Spirit through anyone He chooses.  Jesus told Peter and the apostles with Him in Matthew 16:18 WEB …I will build my assembly (ekklesia), and the gates of Hades will not prevail against it." These are the people that will push back the influence of darkness.
I added a section to this website to provide insight to unchurching called Ekklesia – His Assembly. Reading the content will help you understand how to be part of the Body of Christ without being part of the religious system. That truth can also help you grow in every way. 
To introduce you to this topic please read Done With Church – Are You?  and learn about my experience. Then you can follow that up with my mini book, Radical for His Church. These can help you if you are struggling with the whole modern concept of church like I was, or if you have already made your departure.
Do You Live in the Mitchell, SD area?
Are you done with the institutional church? Do you desire relationships with other believers? Do you live in the Mitchell area?  Then contact me at randy@randyhartwig.com. Let's arrange a time to meet up and discuss it.  I'm not trying to start a traditional church. Been there, done that. My purpose is to encourage Christians to gather together as an extended family to love God, serve one another, and reach out to those who don't know Him. If you read the content at Ekklesia – His Assembly. you will gain a better understanding of what I'm talking about.
(c) 2017 Randy Hartwig Ministries. All rights reserved.