I Am Done with Church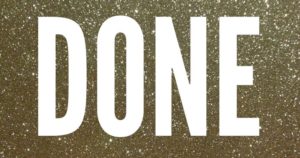 Every year over 1 million believers in the United States decide they are done with church, according to the Gallup organization. As of November 2016, I am one of them! They call us the "dones". We left the institutional church and are looking instead for the reality of the Body of Christ.
Leaving was a big change for me. I was part of the institutional church most of my life. I even worked for it most years, starting in 1976, serving as a pastor, assistant pastor, worship leader, teacher, youth worker and business administrator in several locations. 
Many of the years I served were really good. I learned a lot and developed friendships with some great people. Unfortunately, the church experience often left me feeling empty and frustrated inside. I knew the church was not functioning the way Jesus and the apostles taught in the New Testament and that caused it to fall short in many ways. The church did not function as the Body of Christ. It was mostly a building full of spectators under the leadership of one person who controlled everything. People did not reach their full potential. They didn't grow very much spiritually. The Body was not being built up to the level Jesus was calling it to because the Holy Spirit was limited to the gifts of mostly one person. 
Professional Clergy is Not Biblical
Did you know that having a professional minister (clergy) who controls the church and does all the ministry is a concept that comes from the third century? It is nowhere in the New Testament. As the Catholic church began to organize they created two classes of people: the clergy (which literally means, chosen ones) and the laity (which literally means, the masses). This practice has trickled down to contaminate almost every church in the world. When Jesus poured out His Holy Spirit at Pentecost, that same Spirit became available to all believers. No one should be above the others for ministry and rule. However, there are gifted leaders who function as overseers and coaches. I'll cover that in a different article.
Anyway, as I served with other leaders, what really amazed me was their inability to see the simple biblical truth of the New Testament Church. They easily accepted the traditions passed on to them from their teachers, but ignored, or explained away, the clear truths presented in the Word. That's not always intentional. Most leaders can't see through the fog of doctrines, invented by men, that were taught as fact for centuries. The fog is all they know. Unfortunately, they aren't bold enough or radical enough to question it and embrace the truth.
The Book that Opened My Eyes
I started to question the operation of the modern church even back in Bible School. I read a powerful book, sometime around 1975, by Robert C. Girard, titled, Brethren Hang Loose – Or What's Happening to my Church? It caused me to see the New Testament church in a totally new way.  He clearly set forth the biblical truths of the church being a body where every part does its work or ministry. That messed me up for tolerating church as usual and I have been promoting the Jesus built church ever since. The problem is that most leaders I know show no interest. Men (and women leaders, too) like to be in charge. It's easier to control things and do it yourself instead of working out responsibility with others. 
Equip the People to Do the Work 
What I have observed over the years is that the failure of the institutional church can most often be tied to a failure to understand and implement Ephesians 4: 11-16. This is by far the clearest, most obvious job description for all Church leaders. Make sure you read it now. The apostles, prophets, evangelists, pastors, and teachers are to equip the people to do the work of ministry. Leaders are not to do all the work and encourage the people to only watch. When the leaders do their job as described in this verse, the people in the Church can learn how to do the work Jesus has gifted them to do. They will not only be active, they will also experience spiritual growth.
Let me summarize the truth the Apostle Paul teaches here. Jesus is the Head of the Body of Christ, not the human leadership. Jesus wants to express Himself through His whole Body, not just one part. Each one has a function in the Body. Each one receives spiritual gifts from God's Spirit. As we all function together, using our gifts, the Body builds itself up in love. 
If  You Can't Use Your Gifts You Will Eventually Leave
Whenever I found myself in a church built on the senior pastor: his calling, his ministry, his preaching, his control, etc., his goals were very clear. Get the people to come to watch him serve and motivate them to donate money to help pay for it all. With no real outlet for my spiritual gifts, the boredom and frustration increased significantly. I saw there was no real vision to establish a true New Testament assembly of believers, but only to promote him and the religious organization. That was how I knew it was time to move on and try to find something else that was closer to what I knew Jesus wants to build, but those are rare indeed.
You Can't Change the System
In those churches where tradition ruled  I tried to encourage the believers to understand and embrace the truth of the New Testament Church. But I found that traditions run deep, even in the hearts of people who think they don't have any traditions.
For some leaders, egos run deep, too. I worked with one pastor about 10 years ago who boldly told me one day, "Those people are here because of me!" Shortly after that, I left. I wanted to be in a church where the people were there because of Jesus! 
I have finally learned that you can't change the system from within. Therefore, I decided to join the exodus of believers out of the institutional church.  It's obvious to me, after decades of working in it, that the most effective way to fully embrace what Jesus wants to do is to come out. The next step is to trust Him to lead me to people who are looking for the same biblical reality. So I finally took that first step. I am permanently done with the institutional church! The freedom resulting from that choice gives me a joy and peace that is precious indeed. 
Real Church is NOT what You Think
As previously noted, I and millions of other Christians, made the same decision to come out! We want God! What we don't want is to be part of a man-made, man-run institution anymore.  So it's a new movement (as some would call it) of believers. It is the unchurching of multitudes of Christ-followers who want to be led by Jesus.
Those done with church who meet spontaneously under the leadership of the Holy Spirit use various terms to describe their gathering. My favorite is ekklesia (or ecclesia). This is the original Greek Bible word in the New Testament incorrectly translated into English as church. It literally means, called out ones and refers to an assembly of people. The Bible describes the ekklesia as people coming out of the world and coming together in a way that allows everyone to be able to participate as the Spirit leads. Other labels used include micro church, simple church, home church, and organic church. The label is not the important thing. Gathering the way He wants us to is the key.
In ekklesia, there is usually no formal corporation, no tax exempt status, no salaries, and no big buildings to support. Money is used for outreach (to those who don't know Jesus) and helping people (the poor, the sick, widows, orphans, etc.). The purpose of getting together is to encourage one another, learn the Word of God together, worship God and grow as a family of believers. The focus is on Jesus, the Son of God. The goal is to follow His leadership and accomplish His will in our lives, our communities and beyond. 
 What "Dones" Don't Want
After their past experiences with the institutional church, here's an overview of what those who are done with church don't want to see anymore.
They do not want to be part of a religious business or corporation. As people who love Jesus, they want Him to build the believers together as the Body of Christ. 

There is no desire for entertainment and religious programming. "Dones" are looking for the spontaneous flow of the Holy Spirit when they gather.

Don't expect them to be spectators who file in and out of a man-made service. They want to use their spiritual gifts and participate as the Holy Spirit leads the assembly. 

Shallow greetings and empty smiles do not a good gathering make. The "dones" want solid Christian relationships where love is the foundation of everything they do.
Do You Live in the Mitchell, SD Area?
Does any of this stir your heart? Are you hungry for more of Him and want less of the religious system? Are you done with church, too? Here is an invitation for you! If you live in the Mitchell, SD area and want to see Jesus build people together the biblical way, then email me at randy@randyhartwig.com.  We can arrange a time to meet up and see if  Jesus is connecting us. 
If you don't live in the Mitchell area but want an internet connection with someone on the same journey you are, you can contact me, too. We can encourage each other and share resources together.
I will share much more on this site regarding this topic. I will enthusiastically promote New Testament (biblical) teaching regarding the gathering of believers together. The focus will be about yielding to Jesus Christ so He can build His Church and do His what He wants.
Be sure to check out the relevant links for more insight. 
I'm radical for His Church. How about you? Find out here.